New display device and some improvements
Today we offer you some improvements and a new display device.
The improvements are:
addition of 12 and 24 bars recording lengths via l4lX tags.
new parameter STOP_ALL_PLAYING_CLIPS_WHEN_RECORDING_ON_ NEW_SCENE in the config.ini file : set to 1, when a recording is launched on another scene than the one playing, the latter will stop playing.
bug fix:

the automatic arming of tracks at startup via the ARM_ALL_TRACK_AT_STARTUP parameter was not working: it is now functional, you may have to set this parameter to 0 according to your needs (by default it is 1).
a blocking bug if you were using a single track with effects and sends: Ableton was not responding to tempo change actions
New display device:
Do you find that the pedalboard display is too small or that your eyesight (like mine) is suffering from the ravages of time? We offer a free Max for Live device that allows you to display the pedalboard information on a computer screen or tablet. The display is larger and clearer. For example, you can place a tablet with this display in front of the pedalboard like this: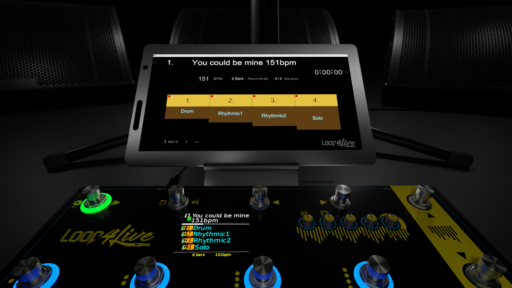 A short video presentation is available at    https://youtu.be/oZBTkyEvyaI
You will need Max for Live to use this device: Max for Live comes with the Suite version of Live or via an additional license.
You will need to update the Loop4Live remote scripts to the latest version to use the secondary display.
The device and remote scripts are available for download at   https://www.loop4live.com/downloads/
See you soon!
musically,
Aurélien
Posted : 30/09/2022 8:23 am
Hi Aurelien,
Thanks for your presence !!!
Is Loop4Live compatible with the 2019 MacBook Pro equipped with the M1 Max chip under the Monterey OS ?
thanks for advance,
fabien 
Posted : 04/11/2022 4:14 pm