Loop4Live is a midi footswitch dedicated to Ableton Live® (9.6 or higher) that offers a new way to control your computer. Loop4Live turns your PC/Mac into a looper station, without the need to access a monitor (or a mouse): All the main features are available on Loop4Live thanks to a large screen, ring leds, 10 footswitches and 5 rotary encoders.
Turn your computer into a loop station.
Navigation within the Ableton Live® software has been optimized and simplified for remote computer use. It turns into the ultimate hardware looper like those available on the guitarists' market, with the advantage of having the recordings directly on the computer, in Ableton's clip grid.
Launch your loops from your computer without access to a monitor.
What you see on Loop4Live is what you get on your computer. Live® and Loop4Live are fully synchronized. Information displayed on Loop4Live screen is the one selected on Live®.
Navigate through your scenes and tracks using 4 dedicated footswitches : left/right and up/down. Launch your favorite backing tracks with one push, record a second or third guitar on your songs : you control your playlist with your foot. And why not a drum loop ? It's really easy.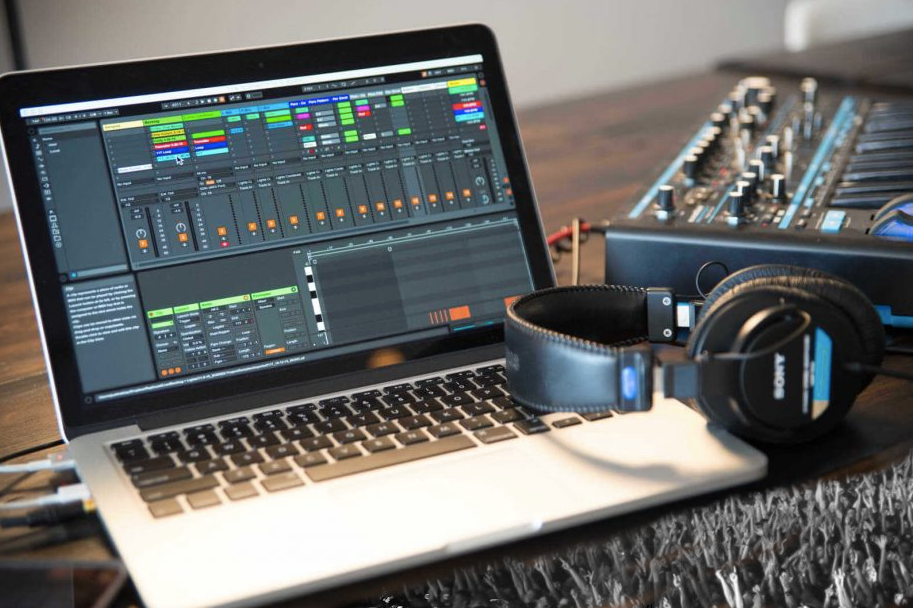 Support your creativity.
Launch your loops and samples to follow your training, your arrangement or your band on stage. Fire your record to create new loops : you can then rearrange your work on the computer to create a whole song. Why not share this work to let your band hear this wonderful new song ? Records are stored on the computer : an automatic synchronization in the cloud offers access for different people or for a second computer used in rehearsal, or in live !
Have all your favorite loops and backing tracks under your foot.
Whether to launch a rhythm guitar to train your solo or a lydian riff to enhance your improvisation, Ableton Live® offers a clear organisation of your audio files : a line of the clip grid is a song (current selection on Loop4Live), columns are the tracks where you select inputs of your instrument (Loop4Live handles 4 of them at a time).
The 4 samples (named clips in Live®) surrounded by the red rectangle are the ones currently selected by Loop4Live. You can then go over clip matrix with the navigation footswitches. Just a drag and drop of a mp3 in the grid and it is available to be launched. Live® allows to read an entire mp3 or just a part you have selected if needed.
Ring leds display status of selected clips.
full Blue : clip stopped.
full Blue +

blinked Red

  : playing.
full Red : recording.
Off : no clip (available for recording).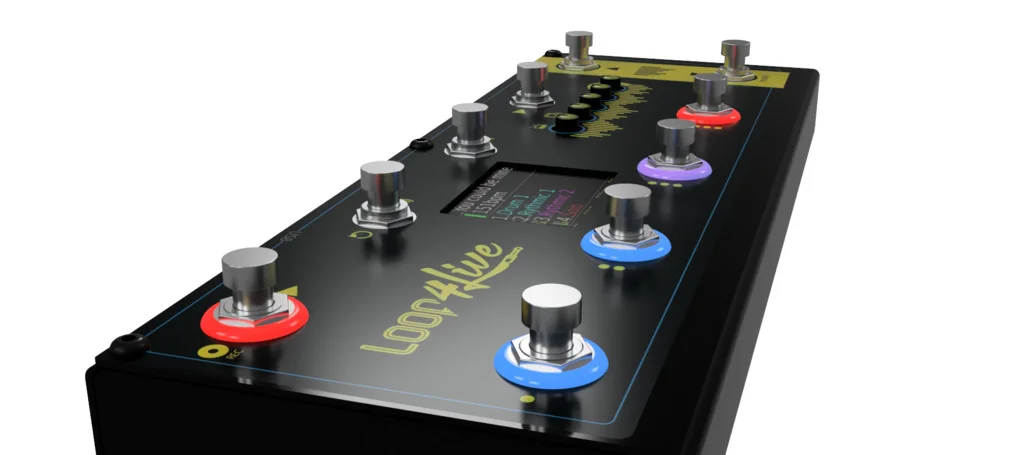 The wide screen displays all vital information.
Current song and the 4 selected tracks and loops properties : samples names, volumes, types.
Clips state with specific colors
Tempo
Measure position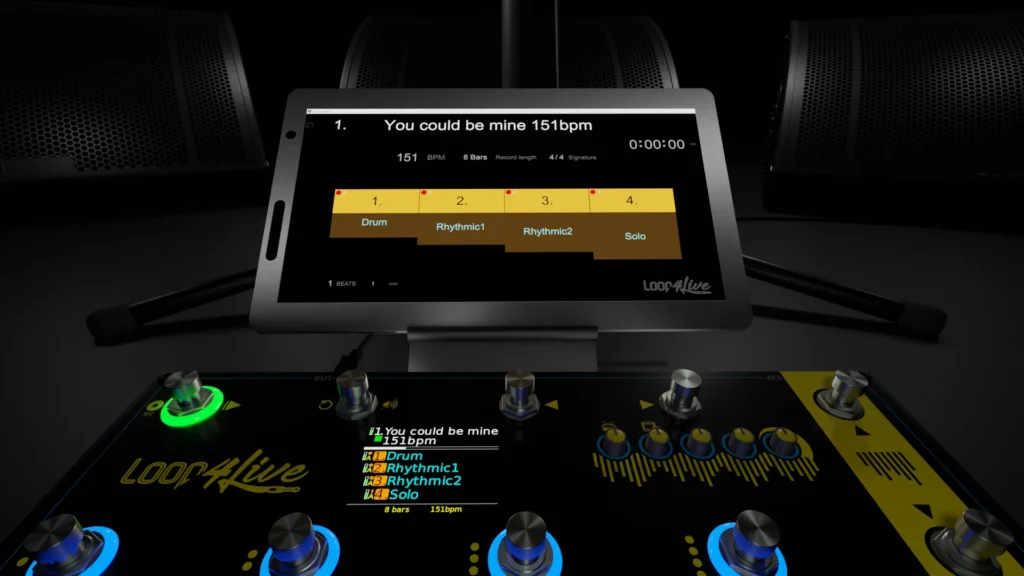 You want an even larger screen ?
We provide you a Max for Live plugin to display all Loop4Live information on a tablet or a computer screen, with big characters and a clear display. An overview video is available.
Rotary encoders allow to change the volumes and access advanced menus.
Tempo menu to easily change BPM and other features.
Recording loop length (1 measure, 2 measures, 4 ,…).
Metronome On/Off.
Create/duplicate scene.
Tap tempo.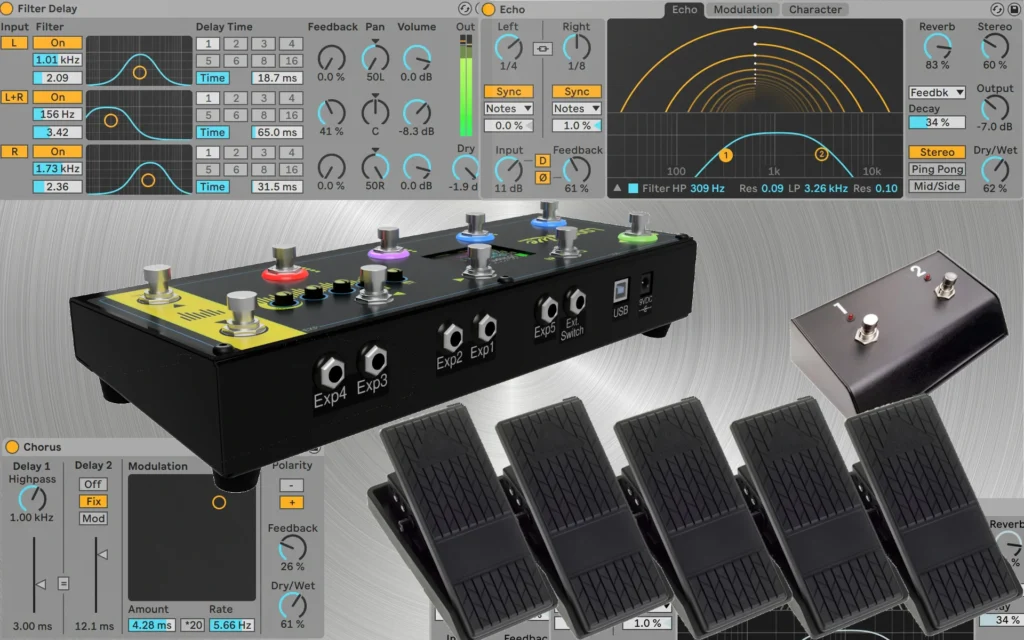 A dedicated mode to drive Ableton effects with up to 5 expression pedals and 2 external footswitches.
The effects mode allows you to browse Ableton Live effects and sends to be controlled with expression pedals (not included). 4 expression pedals are linked to the tracks selected, the fifth is a global control. The footswitches give the ability to control scene launch or the controller you wish.
The free mode allows you to customize the midi notes and cc sent by the pedalboard so that you can control even more elements in Ableton.
Automate your preset changes as the song progresses.
Most multieffects are checkable via midi in order to change presets on the fly. Why not leave this job to Ableton Live which can change the current effects according to the position of the song. This way you can keep your focus on your instrument.

Add up to 6 Loop4Live in parallel !
One for the guitarist, one for the bassist, the other for your favorite groopie. Each Loop4Live can control different frames of 4 clips. And why not right side of Ableton Live® for one member and left side for another one ? Each member will have his free space to record his part. Or perhaps one Loop4Live for audio tracks and the other for midi tracks ? Many possibilities are imaginable. You can use your usual control surfaces, they will be synchronized with Loop4Live actions.
Have the simplest interface to keep concentrated on your music.
Free your hands in order to keep them on your instrument and not on your mouse.
Sitting on your favorite sofa or going on a wild stage: the main point is to be away from your PC/Mac. Loop4Live comes with a 5 meter USB cable, no additional power supply is needed.
Allow many sample launches on stage or during your training sessions (such as mp3, a second or third rhythm guitar, a drum beat, or just a one shot synth).
Transform Ableton Live® into a loop station (by adding dedicated features such as setting the right tempo at launch and simplifying navigation).
Records are placed in clip's matrix (Ableton Live looper function not used)
Add a drum instead of a basic metronome, it makes the difference during your jam session. With the simplicity of MT Power Drum Kit® free software, create a new midi drum loop in 5 seconds. All is explained in Loop4Live manual
Remotely launch records (input line on computer needed).
Your bassist or your drummer is not available ? Replace him with Loop4Live 🙂
Looper features in general :

Be able to quickly launch and record samples.
Come to your rehearseals with a lot of ideas worked out at home. No lack of inspiration !
Warping : Live® is able to keep your riff "in loop". Press the launch or record button, Live® will take care of launching and stopping it in the correct timing.
A clear organization of samples. Live® screen is seen as a matrix with :

Scenes (lines of the matrix) which can represent a song or a part of a song (verse, chorus).
Tracks (columns of the matrix) which handle "clips" (ie. samples).

Create complex song structures with intro and transitions : Samples can be chained to be triggered by each other
Powerful tools to work your sound (automation, audio effects, VST, ...)
Live® price (Intro version with 8 scenes and 16 tracks).
Can separately send a metronome to your drummer to a dedicated output.
Compared to hardware loopers :
Add new backing tracks with just a drag and drop. Then arrange them easily in Ableton Live®.
A lot of tracks (compared to hardware looper) with names (and not just numbers) : at least 16 to unlimited audio & midi tracks** (depending on Ableton Live® version). No need of overdubbing, you keep control to change each clip separately later.
All your records are directly available on your computer : you can then arrange them and share your ideas with your band.
Send a metronome click to your drummer on a dedicated output.
Easy settings : it's more comfortable to work on a computer instead of being crooked on a pedal board for settings.
Sample name easily changeable on your computer and not with rotary encoder.
The possibility to record with several people at the same time and on the same computer.
Compared to other controllers :
The recordings take place directly in the clip grid. Ableton Live's looper feature is not used because it requires computer access for validation.
All information is displayed on the footswitch (screen + light rings). No more need to access the monitor or the computer mouse.
No MIDI settings to make, everything is supplied ready to use.
Smoother navigation by adding configurable behaviors (return to the first track on scene change, modification of the global tempo if launching a clip from another scene with a different tempo).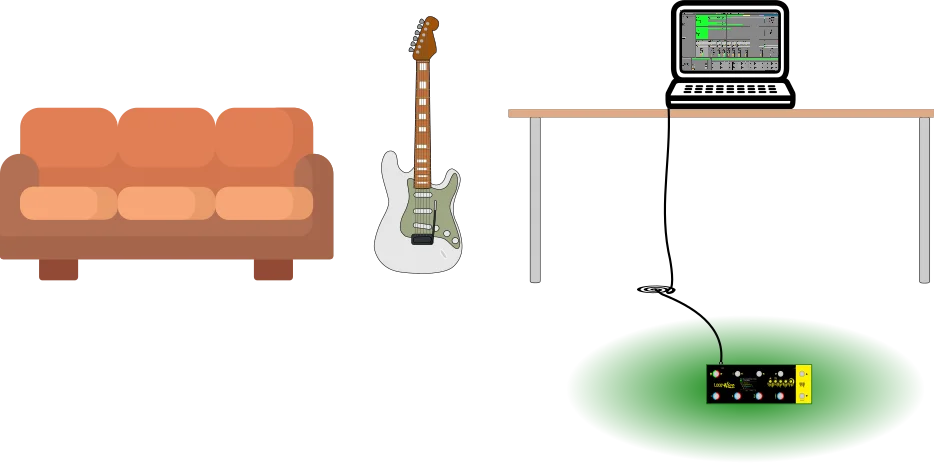 To have a first experience with Loop4Live, you'll only need a computer installed with Ableton Live 9.6 or higher (Lite version is working). The computer needs to have an audio interface to play samples. If you do not plan to record, you don't need an audio input.
Minimal settings :
Mac :

OS X 10.11.6 or later 64-bits
Intel® Core™2 Duo Processor 64-bits
4 GB RAM
Audio speakers
Ableton Live  9.6, 10 or 11 installed

Windows :

Windows 7 (SP1), Windows 8 or Windows 10 64-bit
64-bit Intel® Core™ or AMD multi-core processor
4 GB RAM
Audio speakers
Ableton Live 9.6, 10 or 11 installed
Mac :

OS X 10.11.6 or later (64-bit only)
Intel® Core™ i5 processor or faster
8 GB RAM
Audio speakers
Audio input
Ableton Live  9.6, 10 or 11 installed

Windows :

Windows 7 (SP1), Windows 8 or Windows 10 (64-bit only)
64-bit Intel® Core™ or AMD multi-core processor
8 GB RAM
External audio interface with audio speakers and an audio input
Ableton Live 9.6, 10 or 11 installed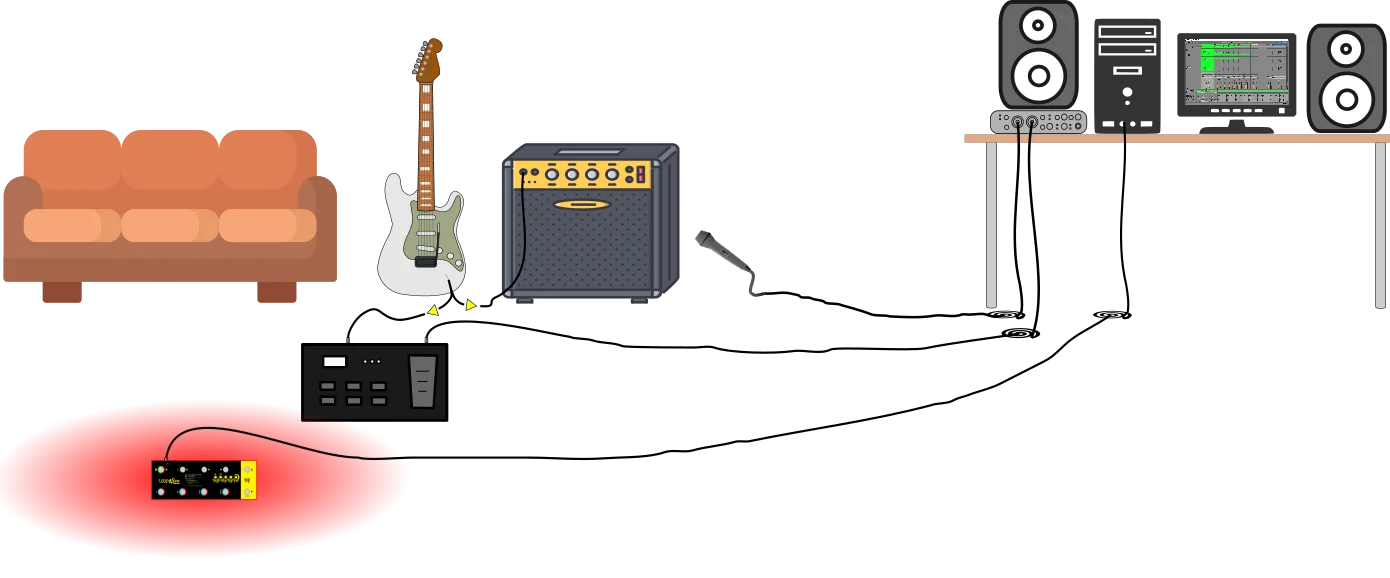 This setting add capabilities to record your instrument. You will need an audio interface with an input. This input will capture either a multi-effect output or a microphone in front of your amp. Depending of your setting, you could also plugged your guitar directly on your audio interface.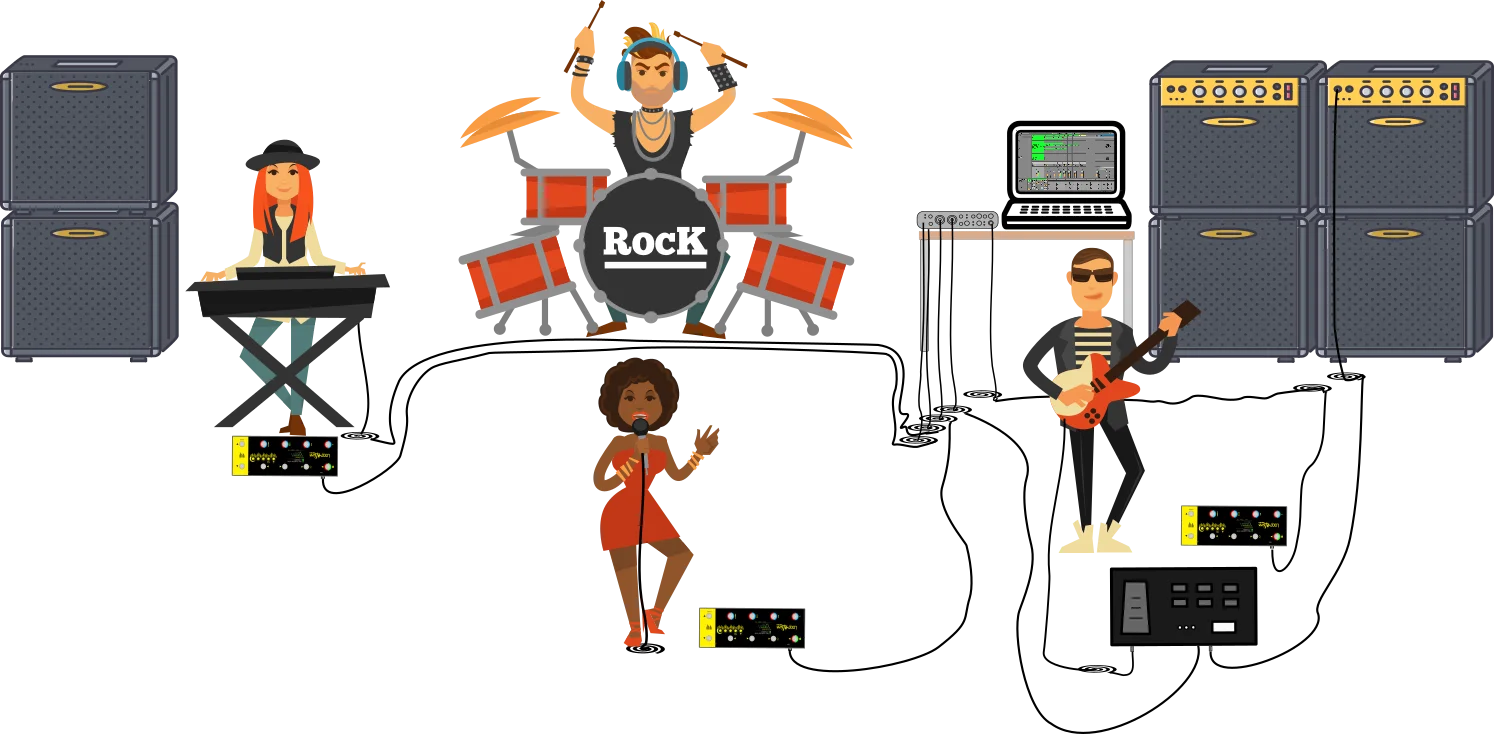 Keep in mind :
You will need a computer with Ableton Live® 9.6 (or higher), 10 or 11 !
If playing with a band, drummer will have to play with a headphone to be in rhythm with computer samples
* via Ableton Live® and an audio interface
** depends on Ableton Live® package : 16 audio & midi tracks available in Ableton Live® Intro